Groundbreaking Ceremony for Jiangsu Jingong Machinery Company
On January 6th, 2011, the groundbreaking ceremony for Jiangsu Jingong Machinery Co., Ltd. was held solemnly in Nanshan Industrial Park of Dantu District in Zhenjiang.
During the ceremony, Mr. Ke Jinding, the General Manager of Jingong Machinery, introduced the project specifically and delivered a speech. Then, the related leaders and guests addressed on the ceremony respectively, including the leader of Dantu District, the Secretary General Mr. Su Zimeng of China Construction Machinery Association and the Vice President Mr. Zhuang Congsheng of All-China Federation of Industry and Commerce.
The Jiangsu Jingong Machinery project planned to manufacture 15000 sets of wheel loader and telehandler as well as 5000 sets of hydraulic crawler and wheel excavator annually. The China CTDI Engineering Corporation was entrusted with the design for whole factory covering overall layout, factory plant, process flow, equipment, as well as auxiliary facilities. Our construction goal was advanced technological layout, high efficient process, equipment with high degree of automation as well as scientific and standardized management. After the completion, the technology would reach the domestic leading level. The Jiangsu Jingong Machinery would become the core industrial cluster base of Jingong Machinery.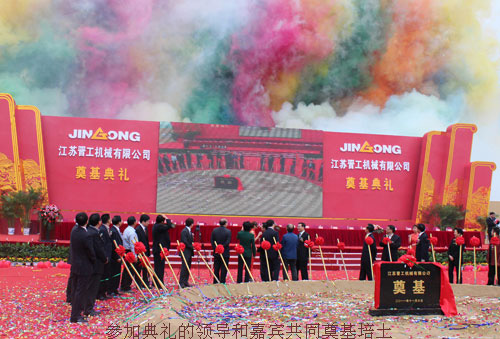 Leaders and Guests Earthing up the Foundation Stone together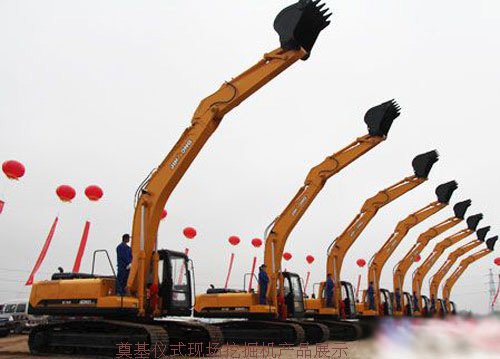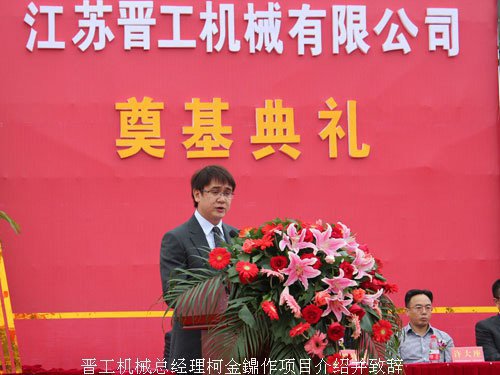 The General Manager Ke Jinding of Jingong Machinery Introducing the Project with a Speech