Acceptance of JGM757 Wheel Loader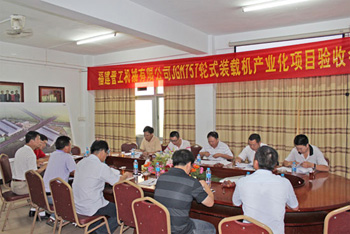 In the morning of July 15th, 2011, the project acceptance for our JGM757 wheel loader was implemented. The main attendants contained the leaders and experts from Fujian Academy of Mechanical Sciences, Special Equipment Supervision and Inspection Institute of Fujian Province and Jinjiang Science and Technology Bureau.
Through the comprehensive evaluation and field test for the research and development result, innovation point, main technical performance indicators, economical efficiency, manufacturability and social economic efficiency index of the product, the specialists thought that the product was designed by reaching the project requirement, our mass production technology was approved, and that we had completed the planned target. The unanimity for the acceptance of our JGM757 wheel loader was attained.
This product is the upgraded version of our 5 ton wheel loader. With rather high technological level and strong competitiveness, it can substitute for the imported product completely. The JGM757 wheel loader is propitious to enhancing the working efficiency, reducing the cost, saving the energy, etc. Furthermore, it can promote the effective adjustment of our industrial structure, increase local fiscal revenue and job opportunity, bring along the local economic development and adjustment, boost the technological progress of Chinese wheel loader, as well as facilitate the development of the related supporting parts industry.