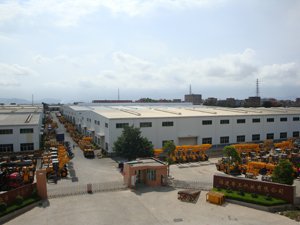 Welcome to JINGONG Machinery. By considering our products, you have made the first step towards securing top-of-the-line machinery for all of your construction needs. As a renowned Chinese manufacturer, we can provide customers with a wide range of engineering vehicles including the telehandler, wheel loader, crawler excavator, and other types of special construction equipment. Premium spare parts and components are available. We export globally to more than 20 regions worldwide including Africa, Latin America, Central Asia, Southeast Asia, the Middle East, etc.
The JINGONG domestic sales network is supported by 100 distributors and 400 special service centers. We provide full coverage for over 30 provinces, municipalities, and autonomous regions. Our products were utilized in key construction ventures including the Three Gorges Project, Xiamen Xiang'an Tunnel, Qinghai-Tibet Railway, Fuzhou-Xiamen High-speed Railway, South-to-North Water Diversion Project, National Center for the Performing Arts, etc.
Inaugurated in 1979, we are now headquartered within the Qianpu Industrial Park of Anhai Town in Jinjiang City. Our company property covers more than 300 thousand square meters and is staffed by nearly 1000 employees. We maintain production bases in both Jinjiang and Zhenjiang, which accounts for 230 and 430 acres, respectively.
In order to provide greater customer satisfaction, we have collaborated extensively with Beijing Jereh Wangke Software to develop a platform system for the effective allocation of services and spare parts. This system has improved our after-sale services by digitalizing the entire management process.
JINGONG aspires to become the leading domestic brand in construction machinery. With high quality products, people-oriented management, and sincere business conduct, we have obtained recognition within the industry. We have won many honors including "Famous Brand of Fujian", "Famous Trademark of China", and "Fujian Brand-name Product". We are also listed as amongst the "Top 50 Chinese Construction Machinery Manufacturers", and "Top 10 Enterprises in the Chinese Construction Machinery Wheel Loader Industry". Our excellent reputation has played an integral role in the promotion of brand image.
Over the years, our company has fostered many corporate talents. We now have a professional taskforce that includes more than 348 highly qualified technical personnel. In 1999, we successfully passed the ISO9001:2000 Quality Management System. In 2000, we were issued the "Quality Certificate for Export Products" by the State Administration for Entry-exit Inspection & Quarantine.
Our company owns 9 authorized patents and was presented with the "Fujian Technological Advancement Award" on multiple occasions. We are recognized as a "Technology Center" in Quanzhou City and a "Hi-tech Enterprise" in Fujian Province. Presently, we are awaiting approval for the nomination of "Provincial Technology Center". Many JINGONG products are labeled as nationally advanced equipment by industry experts. Of noteworthy mention is our telehandler, which has created a national precedent by being the first telescopic loader of its kind.
As a mature enterprise, we have not neglected our social responsibility. Our company invested in the construction of Zijiang Middle School, the largest learning institution of its kind within the province. Over the years, JINGONG has donated tens of millions of dollars to various charities and projects. On multiple occasions, we were designated as a Class-A Enterprise by local financial and tax institutions.
Our company advocates virtues such as unity, sincerity, and perseverance. Through structured management and technological innovation, we will further enhance our reputation and make JINGONG a brand that can withstand the tests of time.